Recently I went to Tasmania on a quest to see the Forty-spotted Pardalote. Some might say it was a work trip given I spent most of my time at a conference and work paid for the the travel. And they might be right… but there are twelve species of birds found only on Tasmania, so I might have had other ideas!
Given I only had a two and a half day window to actually have a look around Tasmania (which I had never visited before), and the Forty-spotted Pardalote is restricted to a small area of the island, my chances of success were always low. The odds were made worse given that I was not going to have time to go to either of the islands with the main breeding populations. But the internet had assured me that the Peter Murrell Reserve had a breeding population and it was only a ten minute drive from my hotel, so I could easily go there early morning before heading off elsewhere.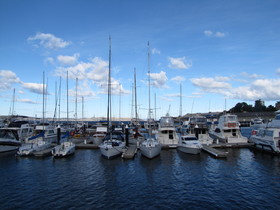 Day 1: Finished with work and had checked into the new hotel by 3pm, so a quick trip out to the reserve before the evening meal. Three hours, no Forty-Spotted Pardalote… but I saw plenty of other endemics including the Green Rosella, Yellow Wattlebird, Yellow-throated and Black-headed Honeyeaters and the Tasmanian Native Hen.
Day 2: This was my day to see Tasmania. A complete impossibility for one day, but I gave it my best shot. An early morning start, and I drove up the east coast from Hobart to St. Helens, cut across to Launceston and then back to Hobart. About 600km in total and a 12 hour journey by the time I stopped at a bunch of tourist attractions and did a couple of small beach and forest walks. I highly recommend anyone who visits the area to spend a lot more time exploring the region. I also recommend never renting a Nissan Micra to drive, as that was an underpowered piece of crap.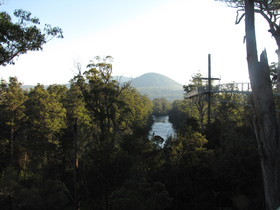 Day 3: Up early and headed to the reserve. Four hours of searching, no Forty-Spotted Pardalote… Decided to take a break and drove to Mt. Wellington for a view over Hobart and then to the Tahune Airwalk – a 600m walk through the treetops of a wet eucalypt forest (pictured). See the cantilever at the end there? That is about 50m off the ground… and there was no way I was walking out on it! Headed back to the reserve for another couple of hours. Still no Forty-Spotted Pardalote…
Overall, I managed to see eight of the twelve endemic bird species and thirteen bird species I have not seen in total. So a good haul overall. However…
Final score: Forty-spotted Pardalote 3: Allan 0